The dollar index rose to a high of 101.26 on Friday off the Wednesday low at 100.41, quite a hefty gain and all the more remarkable because payrolls disappointed so badly, only 98,000, half the consensus forecast and a third the ADP forecast, not to mention a downward revision to earlier months of another 38,000. But the market decided the payrolls number would not stay the Fed's hand, especially on NY Fed Dudley affirming the Fed is getting closer to shrinking the balance sheet.
Besides, the safe-haven move on the US airstrike into Syria was reduced when seen as a one-time thing, although volatility in the 10-year was a little scary. Initially the flight into Treasuries carried the 10-year yield below 2.3% on Thursday and the yield fell some more on payrolls, but by the close on Friday, the yield had recovered to 2.375%, the highest close of the week and spitting distance of the close the Friday before at 2.396%.
Having shrugged off the two big US events, markets are relatively tame. Europe could breathe a sigh of relief, too, after polls on Friday showed LePen doing okay in the first vote (April 23) and fractionally ahead of Macron, but losing big-time in the May 7 run-off. The Ifop Fiducial tracking poll gives LePen 41% to Macron's 59%. Bloomberg reports the euro is beset by jitters anyway as the French yield spread over Germany jumped again to the highest since Feb (and the CAC fell) as the far-left Melenchon jumped in the latest polls. Euro volatility jumped.
Oil prices are firmer despite a gain in the Baker Hughes rig count, an increase by 10 to 672 rigs ("oilonly"), compared to 354 rigs a year ago. Rigs were down 58.2% from the peak rig count of 1,609 rigs seen Oct. 10, 2014.
Also Friday, the CFTC position report for the week ended April 4 shows traders reducing longs in the yen, euro, Swissie and sterling. The AUD long was reduced substantially and traders are now short the NZD by 14,724 contracts, the most bearish since mid-2015m, according to the FT "The trend reflects weakness for both the New Zealand and Australian dollars versus the buck as the Federal Reserve is seen raising interest rates a few more times this year. The Kiwi and Aussie — which tend to sport a fairly tight correlation to global market risk appetite — have also struggled in the face of a more tentative mood among investors of late. Traders may like to note that the previous biggest net short was nearly 20,000 contracts in July 2015, and it came just several weeks before the Kiwi hit a cyclical low from which it started on a year-long uptrend."
The Commodity Futures Trading Commission released its weekly Commitments of Traders report for the week ending April 4 on Friday.
Speculative positioning in the CME and ICE currency, commodity, energy and index futures:
Long
Short
Net
Prior
Change
Gross
Change
Gross
Change
EUR
-11.4k
-7.9k
-3.5k
155.5k
-8.2k
166.9k
-4.7k
GBP
-99.7k
-104.1k
4.4k
30.7k
-4.3k
130.4k
-8.7k
JPY
-45.8k
-53.2k
7.4k
41.3k
-1.6k
87.1k
-9.0k
CHF
-13.8k
-16.4k
2.6k
5.7k
-1.2k
19.5k
-3.8k
CAD
-30.2k
-28.2k
-2.0k
38.5k
8.1k
68.8k
10.1k
AUD
49.6k
53.1k
-3.5k
90.2k
-0.6k
40.6k
2.9k
NZD
-14.7k

-12.6k

-2.1k

17.0k

0.8k

31.7k

2.9k

MXN
-9.7k
-4.7k
-5.0k
81.0k
8.3k
90.7k
13.2k
S&P 500
120.7k
160.8k
-40.1k
538.1k
-40.7k
417.4k
-0.7k
Gold
155.4k
137.8k
17.6k
239.1k
11.2k
83.6k
-6.4k
Silver
101.4k
90.7k
10.7k
126.5k
14.3k
25.1k
3.6k
Copper
26.9k
29.9k
-3.0k
111.7k
-0.4k
84.8k
2.6k
RUB
20.1k
19.4k
0.8k
26.6k
5.8k
6.4k
5.0k
Crude Oil
408.4k
398.1k
10.3k
650.0k
2.0k
241.6k
-8.3k
We continue to worry about the dollar/peso, which keeps showing a possible upside correction that never goes anywhere. Oddly, the 50-day and 200-day moving averages are converging. What does this mean? Maybe nothing.
In the bond market, the 10-year closed lower than the day before but on an engulfing bullish candlestick, lower open and higher close than the day before, signaling a shift in sentiment to the positive.
Gold spiked on the geopolitical story but retreated to a tame, slight upmove. Most interesting is confirmation that commodities are on the rise again.
EURO OUTLOOK:
The euro is continuing lower for the 4th day, to 1.0571 so far yesterday. This beats the previous low at 1.0573 from March 10 and approaches the channel bottom, a form of weak support, at 1.0553. The Bollinger band bottom is Prediction is very hard, especially about the future. Yogi Berra Doubt is not a pleasant condition, but certainty is an absurd one. Voltaire Brent Oil Futures Gold Spot 1.0452 and the previous lowest low is 1.0494 from Feb 22. Market News wrote Friday "Heading into the French elections later in the month, traders would not be surprised to see the euro break below the psychological $1.0500 mark."
The Main Event The Reuters 10-year yield index closed at 2.373% from 2.343% the day before but on an engulfing bull candlestick (lower open but higher close), pointing to wildly positive sentiment. This morning it is quoted at 2.385%.
Market News notes that on "Dec. 15, 2016, 10-year U.S. Treasury yields topped out at 2.639%, the highest since the Sept. 19, 2014, peak near 2.655%. A decisive break above 2.655% would set the stage for a larger move to 3.0%, a year-end yield target for several firms."
But note that a big player (Gundlach) sees 2.25% instead and 3% not achievable this year. Market News reports that RBS Capital Markets still sees 2.60% over the next 1-3 months. The yield would have to break 2.29% to "nullify our core bearish view."
The Bund yield was 0.245% on Friday morning and 0.228% this morning/ It was 0.427% a week ago Friday. Market News notes "On Jan. 26, German yields topped out at 0.499%, which was the highest since mid-January 2016. Ten-year Bund yields last traded above 0.50% in January 2016. The 2016 10- year Bund yield high was 0.627%, seen Jan. 4 of last year."
MARKET OUTLOOK:
This week we get retail sales and inflation data, both likely on the soft side. At this point, it would take catastrophically bad data to change the Fed's schedule. Yellen speak at the University of Michigan—and take questions. Speaking in Australia overnight, NY Fed Dudley already gave the dollar a boost with remarks seen as hawkish. He down played the amount of time the Fed would defer hikes once balance sheet reduction gets started. Some critics had thought Dudley's comment last week—that reducing the balance sheet has the same effect as rate hikes—meant a pause in hiking per so. To be fair, according to Bloomberg, Dudley did say earlier that the winding down of the balance sheet might coincide with a "little pause" in the pace of hikes. The pause is dovish. Now Dudley has walked it back.
But there's something else here, too. Bloomberg says "the market doesn't necessarily see the wind down as tightening, and is mostly interested in it insofar as it signals something about the pace of potential rate increases." That's because we have no evidence that a marginal increase in supply will not be sucked up instantly and without incident. The Fed is not dumping it all at once.
This is a distraction from the real issue talked about at length over the past year—if the "natural" rate is permanently lower in the grand sweep of history so that 3% is the new 6%, the Fed has a whole lot less wiggle room—a giant incentive to normalize as fast as possible lest the Fed have only a spoon instead of a bulldozer when the next recession arrives. And it may already be overdue—the recovery is, historically, abnormally long-lasting.
Attention has shifted back to the French election as the far-left candidate Melenchon, who is as toxic to the outlook for markets and the eurozone as LePen, is gaining ground in the polls. LePen shot herself in the foot by denying that deportation of Jews was done by the French police during WW II. Yeah, it was. This takes on some importance as Passover begins today and the Easter holiday begins on Friday and markets are closed in many places. The holiday will close markets next week, too. The loss of liquidity can result in exaggerated price moves.
But overall, European yields are creeping upward. Bloomberg reports "In overseas markets, more than $3 trillion of negative-yielding government bonds -- which all but guarantee losses for buy-and-hold investors -- have turned positive in recent months. And analysts say that number may grow over the next few years as brighter economic prospects and shifts in monetary policy lift trillions more out of sub-zero levels in Europe and Japan." See the chart.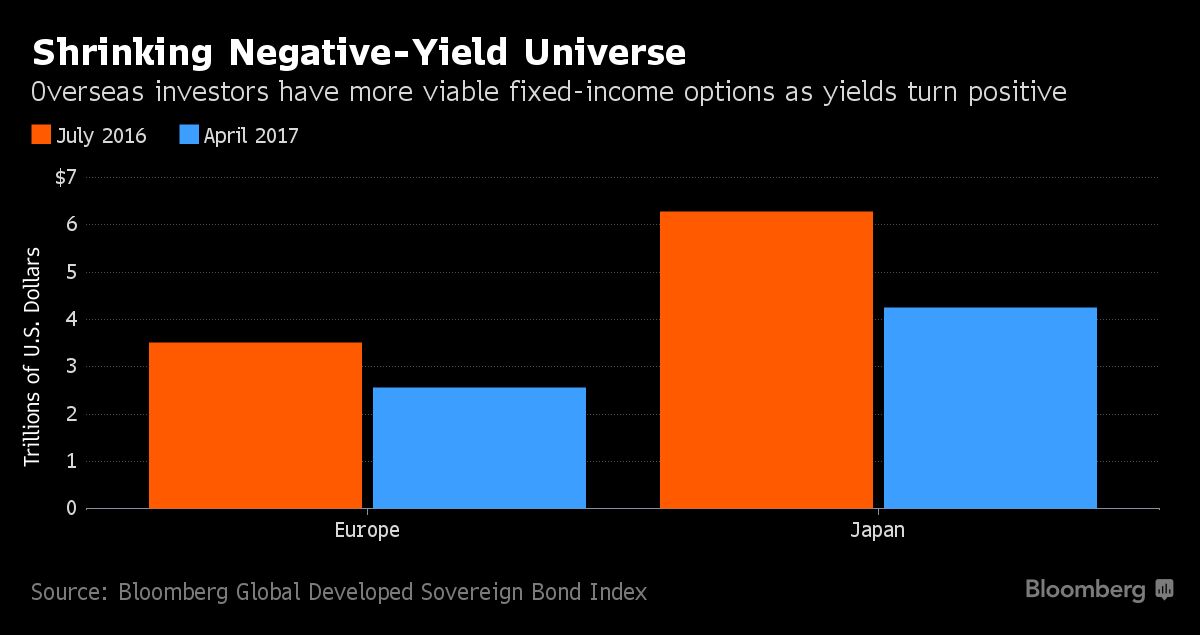 The consequences for the U.S. bond market could be significant. Simply put, foreigners who have poured vast amounts of money into higher-yielding Treasuries may be less inclined to do so now that they have more viable fixed-income options at home. Any sustained retreat could lead to painful losses, particularly at a time when Fed officials are suggesting the central bank may finally be ready to pare its holdings, which include $2.46 trillion of Treasuries." The chief Deutsche Bank economist says "There may no longer be a tsunami of money coming from Europe and Japan."
Bloomberg notes "Foreigners currently own 43 percent of the $13.9 trillion Treasury market. With the Trump administration's pro-growth agenda likely to swell the public debt burden in coming years, they'll be crucial in helping hold down long-term borrowing costs as the Fed raises interest rates." In other words, the monetary policy divergence trade is nearly over already and before the differential got to a convincing and sustainable high number. We have been saying for years the differential needs to be 2.5% or more to overcome the natural tendency of the dollar to be weak due to the twin deficits (and probably lack of confidence in Trump, too).
We say let's not panic over something that has yet to develop and is still just a gleam in some eyes. A reduction is not a reversal. Shrinking the Fed balance sheet won't begin until near year-end and after the next two hikes. As far as we know, the ECB is still on hold for tapering. It just started the lower amount of QE on April 1 (€80 to €60 billion per month). And bad things can happen in Europe on the political front that drive yields back down, too. As soon as the French election is over, we will start hearing about the German election in the fall.
And heaven only knows what's going to happen to risk appetite if geopolitical developments worsen, as looks likely. In sum, it's wildly premature to project what US yields will do. It's a little interesting that risk aversion may have retreated a bit, at least in Japan. The dollar/yen is back on the rise. Bottom line, it's okay to like a long dollar position again.
Politics:
G7 is holding its foreign ministers summit in Italy today and tomorrow, with Sec Tillerson in attendance. Tillerson, like Trump, reversed 180 degrees from letting the Syrian citizens pick their leader to a hawkish stance against atrocities. "America First" can also mean the world leadership role, although the Trump base really liked the rejection of further endless wars we can't win. Note that all the allies are praising the US for taking action but not explaining why they didn't do it themselves.
The US does not have a new policy that calls for regime change. The airfield attack was more of a symbol than anything else—within hours, Syrian planes were using the field. We don't know why the US hit planes and supply depots but not the runways themselves.
The incident was just that—an incident, not a signal of a new US stance. As the pundits said, one airstrike does not a policy make. In fact, the Trump White House doesn't have a foreign policy. It will presumably pick and choose from among the options the generals offer and cobble something together it will name a "policy," and the rest of us will struggle to find coherent principles. This will probably be a fruitless exercise—Trump doesn't have principles.
We have almost no news about the visit by China's Xi, who was present (in the same house, anyway) when Trump decided to bomb the Syrian airfield. The two leaders agreed on a 100-day study period to figure out how to reduce the US trade deficit with China. The FT reported yesterday that China will offer greater access to markets for financial institutions and end the ban on US beef exports. We got no information on what China will do to rein in North Korea. We also have no real news about relations with Russia, which is huffing and puffing about the insult to its client state.
For the first time since the Cuban missile crisis, the threat of nuclear war—with Iran/Russia and/or North Korea—looks like a genuine possibility. Our best hope against this outcome is that Trump cares most of all about his reputation and standing in the presidential parade and doesn't want to be the only guy since Truman to have used nukes. Markets on counting on the Trump ego more than Trump common sense or principles to avoid war.
Our Credo: What's Good for YOU!..Good For Us and vice versa!...