Pair Trading...
First, pairs trades are great in rocky markets because they can help you control risk. It's not uncommon, for example, to have both stocks in a pairs trade fall on a big down day. While that would clobber regular investors, pairs traders may remain completely neutral or even profit if the relationship changes in their favor.
Second, pairs trades are not market driven. They can potentially profit when the markets go up, when they go down or even when they go nowhere at all. Remember, it's the relative performance that you're after here.
Third, there's almost no directional risk. Because a pairs trade always has one long and one short position, the first position is constantly hedging the second, and vice versa.
And fourth, because of the way they work, pairs trades can be very low cost or even no cost. It's not uncommon for the short position, for example, to pay for the long. Margin requirements, as a related item, are typically much smaller, too because drawdowns are minimal by virtue of the fact that they're always offset.
There is no doubt in my mind that Amazon is the real winner in this case and that
every
other retailer is the loser. I don't care whether we're talking Wal-Mart, Target, or even other grocers.
Amazon has so much cash, unprecedented access to big data, and years of operational logistical experience that the latter simply cannot compete.
Here's how to set up the trade...
Simultaneously buy
Amazon.com Inc.
(
NasdaqGS:AMZN
) stock and simultaneously sell short an equivalent
dollar
amount of the
SDPR S&P Retail ETF
(
NYSEArca:XRT
)
(An equivalent number of shares will not work so don't mistakenly assume that 100 shares of Amazon will offset 100 shares of the retail ETF.)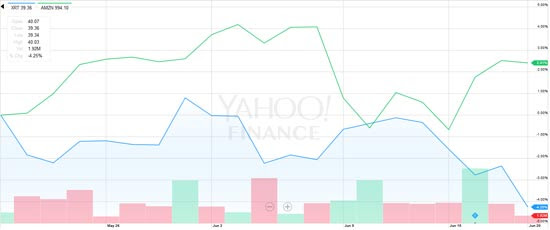 As I write this, Amazon is trading at $994.00, so that means 100 shares will set you back $99,400.00 excluding commissions. The
SDPR S&P Retail ETF
is trading at $39.35. Consequently, you'd sell short roughly ­­­2,526 shares of the ETF ($99,400.00 divided by $39.35 equals 2,526 shares).
If you wanted to follow along with much smaller amounts, the math is the same. For example, let's say you wanted to risk $1,000 on this trade. You could buy 1 share of AMZN (for $994.00) and sell short 25 shares of XRT, again not including commissions that vary from broker to broker.
As long as the retail ETF does, in fact, lag Amazon in the months ahead, the trade will make money.
Of course, the e-commerce king has gotten pricey from its historic run, and a share of Amazon now costs nearly $1,000 as I write. Naturally, this has left millions of investors looking for a "backdoor" entry to Amazon that doesn't force them to choose between buying 100 shares or a house.
Enter
T. Rowe Price Blue Chip Growth
(TRBCX),
I've uncovered that lets you profit from Amazon for as little as $72 a share. If you've ever wondering what billionaire Peter Lynch, President Trump, and a Retired Cop from Northridge have in common... 26(f) "programs" are the answer. And even though most have no idea they exists, they could be worth $68,870 or more to the average American.
It's worth noting that while we're talking specifically about Amazon and competing retailers, you can use this pairs trade tactic for any company you expect to underperform the broader markets or a related index. We've talked about
Volkswagen
(
OTC:VLKAY
),
Shake Shack Inc.
(
NYSE:SHAK
),
Zoe's Kitchen Inc.
(
NYSE:ZOES
),
Twitter Inc.
(
NYSE:TWTR
),
Snap Inc.
(
NYSE:SNAP
) and
GoPro Inc.
(
NasdaqGS:GPRO
) as being terrible investments in the past, for example. And they've all been great candidates for this kind of trade.
Are there some
gotchas
?
Yep.
The biggest is that the spread could narrow instead of widen. That means one or more of the positions go against a trader taking the bet I've described. The retail sector and grocers, in particular, could miraculously figure out how to compete against Amazon and that could cause their stock to rise faster than Amazon's. A positive news story would do it, as would some breakthrough technology or rising public resentment against Amazon because it becomes "the establishment" as
Starbucks
Corp.
(
NasdaqGS:SBUX
) did a few years ago.
Pairs traders typically have higher commissions because a single trade involves commissions on both sides. Remember, you're buying and selling at the same time.
Then there's slippage, meaning that a trader may not get exactly the fill he or she is looking for. Pairs trading can involve odd lots that are by their very nature more thinly traded, for example. Or, partial fills.
In closing,
Pairs Trades
, like our
Lowball Orders
, are a professional grade tactic you can use very effectively as an individual investor. Moreover, they're tailor-made for the kind of situation Amazon's Whole Foods acquisition creates.
Happy Trading,
Our Credo: What's Good for YOU!..Good For Us and vice versa!...
Disclaimers
Investing is Inherently Risky There are risks inherent in all investments, which may make such investments unsuitable for certain persons. These include, for example, economic, political, currency exchange, rate fluctuations, and limited availability of information on international securities. You may lose all of your money trading and investing. Do NOT enter any trade without fully understanding the worst-case scenarios of that trade. And do NOT trade with money you cannot afford to lose. Past performance of an investment is not necessarily indicative of its future results. No assurance can be given that any implied recommendation will be profitable or will not be subject to losses. Hypothetical Results Are Reported Results and examples used in the Company's advertisements, books, videos, websites, and other media—including on the Site and the Network—are, in some cases, based on hypothetical (simulated) trades. Plainly speaking, these trades were not actually executed. Hypothetical performance results have certain limitations. Unlike an actual performance record, hypothetical results do not represent actual trading. Also, since the trades have not been executed, the hypothetical results may have under-or-over compensation for the impact, if any, of certain market factors, such as lack of liquidity. Hypothetical trading programs generally are also subject to the fact that they are designed with the benefit of hindsight. Hypothetical results also do not account for commissions or slippage. The Company's simulations assume purchase and sale prices believed to be attainable. Yet traders are going to be getting into trades at different times and using various exit approaches, which may result in different pricing and outcomes. You may or may not receive the best available price on the purchase or the sale of a position in actual trading. Information provided by the Company is not investment advice. The Company is not a registered investment adviser, stock broker, or brokerage. You agree that the Company does not represent, warrant, or take responsibility that any account will or is likely to achieve profit or losses similar to those shown. Examples published by the Company are selected for illustrative purposes only. They are not typical and do not represent the typical results of all stocks within the Company's software or its individual scans and searches. No independent party has audited any hypothetical performance contained at this Web site, nor has any independent party undertaken to confirm that they reflect the trading method under the assumptions or conditions specified.