In the interest in staying with what has been working, Trade ideas technology is giving us a few contenders that look to push to new 52 week highs with the help of short sellers capitulating and creating yet another short squeeze in this market environment. Sunrun Inc. (RUN) has caught our eye as such a candidate from the "Squeeze Me" scan.
The suggested entry price of buying RUN is conditional of the stock trading above 7.35 this week. RUN has earnings in 11 trading days and also a short float of 28%; meaning 28% of the stock holders might start buying their shares back if RUN trades too far above 7.35. This could potentially propel RUN higher over a few days of "short squeezing" the short sellers.

The suggested stop for RUN will be a trade back below 6.85. The suggested near term target on the daily chart will be 8.40 which is a resistance level going back to May of 2016. The risk is 50 cents and the reward is 1 dollar on this Trade of the Week idea. As always size your position to allow for 50 cents of risk should this trade not work. Managing risk is always our number one priority.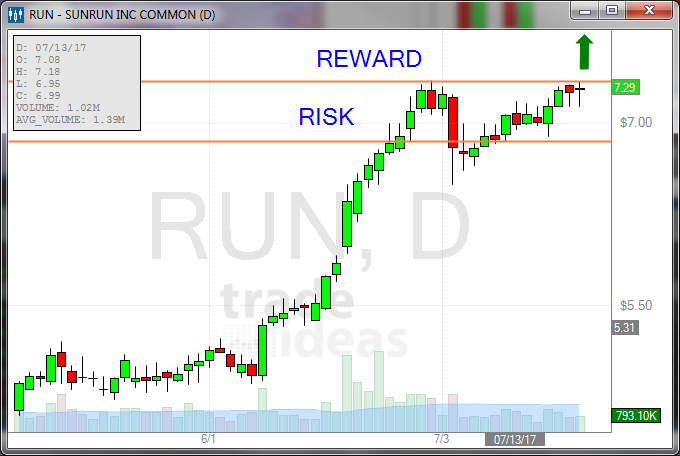 Footnote: This is a table showing the maximum profit for all past 2017 Trades of the Week. Timing the top is impossible but this table shows how much alpha was possible when considering the exit of these positions. The trades outlined in red eventually hit their suggested stop prices, so you can see the importance of timing and harvesting profits along the way when you can, especially those that move above 10%.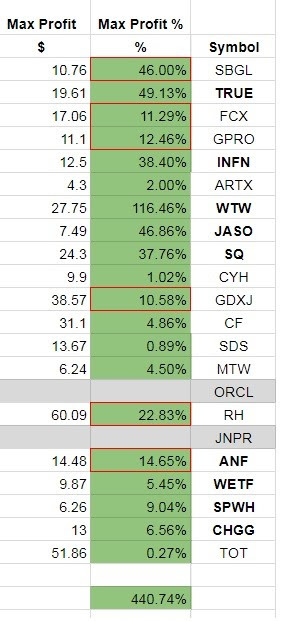 *Assumptions
Targets are not absolute. Targets involve timing. Profits can and should be harvested along the way.
Risk to Reward ratio ideal is 1:3
Trades of the week that do not reach entry prices are not considered live and are expired at the end of the current week. (ORCL and JNPR)
TOW Rules: 20% Rule. If a performance is up 10% and gives back 20%, take the 8 and run. (Profit Save, Trailing Stop).
Stocks that gap up over the entry price are considered up to the discretion of the buyer as to the entry price (WETF)
FOR OPTION TRADING OF THE WEEK!
Option Trade of the Week- The best option idea each week, based on projected potential return, with less than a $5000 investment and no margin requirement.
Call (Bull) Debit Spread on Alibaba Group Holding Ltd. (BABA), current price $152.26)
Buy 10 - October 2017, $150 strike calls for $10.75
AND
Sell 10 - October 2017, $160 strike calls for $6.10
Based upon Trades' projected share price of $159.30 at (or before) expiration on
10/20/17
, Return on Investment (ROI) would be 99.36% (including reasonable commission) if BABA rises 4.62% in the next 12 1/2 weeks. Options are suitable for only very aggressive investors.
WE ACCEPT TIP INCENTIVES
AND WE APPRECIATE IT.
Send your TIPS to my bitcoin address below...THANK YOU!
Bitcoin Address: 16uoUH9cTC5Mpf7QttdRkKHdV2XBc5b3XS
Happy investing!
Our Credo: What's Good for YOU!..Good For Us and vice versa!...
Disclaimers
Investing is Inherently Risky There are risks inherent in all investments, which may make such investments unsuitable for certain persons. These include, for example, economic, political, currency exchange, rate fluctuations, and limited availability of information on international securities. You may lose all of your money trading and investing. Do NOT enter any trade without fully understanding the worst-case scenarios of that trade. And do NOT trade with money you cannot afford to lose. Past performance of an investment is not necessarily indicative of its future results. No assurance can be given that any implied recommendation will be profitable or will not be subject to losses. Hypothetical Results Are Reported Results and examples used in the Company's advertisements, books, videos, websites, and other media—including on the Site and the Network—are, in some cases, based on hypothetical (simulated) trades. Plainly speaking, these trades were not actually executed. Hypothetical performance results have certain limitations. Unlike an actual performance record, hypothetical results do not represent actual trading. Also, since the trades have not been executed, the hypothetical results may have under-or-over compensation for the impact, if any, of certain market factors, such as lack of liquidity. Hypothetical trading programs generally are also subject to the fact that they are designed with the benefit of hindsight. Hypothetical results also do not account for commissions or slippage. The Company's simulations assume purchase and sale prices believed to be attainable. Yet traders are going to be getting into trades at different times and using various exit approaches, which may result in different pricing and outcomes. You may or may not receive the best available price on the purchase or the sale of a position in actual trading. Information provided by the Company is not investment advice. The Company is not a registered investment adviser, stock broker, or brokerage. You agree that the Company does not represent, warrant, or take responsibility that any account will or is likely to achieve profit or losses similar to those shown. Examples published by the Company are selected for illustrative purposes only. They are not typical and do not represent the typical results of all stocks within the Company's software or its individual scans and searches. No independent party has audited any hypothetical performance contained at this Web site, nor has any independent party undertaken to confirm that they reflect the trading method under the assumptions or conditions specified.