: MARKET REVIEW- The dollar index rose a little on the payrolls release but not to the levels of the day before—although a whole lot better than on Monday. Job data was 222,000 when 180,000 was forecast but hourly earnings disappointed at only 2.5% y/y when 2.6% was expected. With the nuances factored in, the report was a wash. One interesting is the 6-month cumulative at 1,079,000, the weakest since 2010 if by only a small amount (2000). Canada, in contrast, got a definitely better number, 45,300 jobs when 10,000 was forecast. BoC rate hike enthusiasts would prefer we not notice that most of the new jobs are part-time. Expectations are running high for the hike at the policy meeting this week. Last week we showed the inflation chart indicating low and falling inflation, which would make for an incoherent story if the BoC does raise rates, with heavy emphasis on the world "pre-emptive." Oddly, after flattening out on Friday, the dollar is on the rise again today for reasons that are unclear.
The yield differential may get some credit, because while the US 10-year can't match-and-surpass the 2.40% we had on May 11, the Bund yield is down by more. The WSJ has the US yield up 5 points (2.385%) and the Bund yield down 31 points (0.544%) from the 18-month high on Friday.
• In Japan, machinery orders fell 3.6% m/m in May when a rise was forecast. Orders had fallen in April, too (-3.1%).
• In China, June CPI was up 1.5% and PPI, 5.5%, as forecast. If we believe it.
• In Germany, the May trade surplus rose to €22.0 billion from €18.1 billion, more than forecast.
The Economist cover story this week is about "The German Problem," naming the trade and current account surpluses that are robbing the rest of the world.
Market Outlook:
The payrolls report is designed to serve a plate of crow to analysts far and wide, including us. But see the chart. It shows wide variability, a couple of months of high payrolls punctuated by the occasional ultra-low bummer. This probably says more about statistics gathering than about the conditions being measured, but never mind. The consensus view after payrolls was that the US would struggle to reach and hold significantly higher 10-year yields. That turns out to be true. It is failing to match-and-surpass the recent high of 2.400% from May 11. Still, it's up over 1% from a year ago.
(source:www.wsj.com)
But it's the contrast with the Bund that counts for judging the euro's path. There the market had gotten well ahead of itself, posting an 18-month high on Friday at 0.58%. The year before, the Bund yield had been negative at -0.2059%. So, the US yield has risen over 1% in the past year and the Bund has risen about 79 bp. On that basis, the dollar should be the winner.
But instead, it has been the euro on the upswing since last December, in some measure because the momentum in the Bund yield surpasses the choppier T-note yield. In addition, the Fed has been consistent about its tapering message, whereas questions abound about ECB sentiment and intentions. We think the Fed will hike in Sept or Dec but will definitely act, not only on rates but also on laying out a plan for gradual balance sheet contraction.
We have a lot more questions about the ECB. The market now thinks the ECB will announce a far
a head tapering to begin in mid-2018 or later. That means the fate of the euro/dollar over the rest of the summer depends on how the ECB debates shapes up. Right at the moment, the euro is retreating on an overbought euro and oversold Bund. Nobody ever knows how far it will go or how long it will last.
We see the power of yield differentials at work in dollar/yen, where the differential hit a 2-month high earlier today and the dollar/yen obediently hit a 2-month low (114.30). Today the BoJ repeated it intends to keep the 10-year near zero and the resolve to get inflation above the 2% target. This was largely expected so we need to note that it was BoJ chief Kuroda saying so that propelled the yen. It's not what central banks do, it's what central bank chiefs say.
As a tidbit, consider this separate report about Japan's demographics: according to Reuters, Japan's native population "fell at the beginning of this year at its fastest pace since comparable figures were kept in 1968, highlighting the demographic challenge to economic growth. As of Jan. 1, the number of Japanese people fell by a record 308,084 from a year earlier to 125,583,658, marking the eighth consecutive year of declines… The number of births fell 2.9 percent from the previous year ago to 981,202, the lowest since comparable data became available in 1974. People aged 65 or older accounted for 27.2 percent of the total population, the highest ratio on record, while the ratio of those aged 14 or younger fell to a record low of 12.7 percent, the data showed." Even adding in foreign residents, who Japan has been courting, the total population fell 0.1%. Yes, it's a "demographic challenge to economic growth.". There is some talk that now matters will calm down and perhaps reverse a bit ahead of Yellen's testimony to Congress this week. We say poppycock to that. Yellen has already said everything of any real interest.
Foreign Affairs: Trump, in Poland, reversed himself on NATO's Article 5 (an attack on one is an attack on all). He gets credit for something, even if we suspect somebody took Trump to the woodshed. About the rest of the Trump performance at G20, the main event was the Putin/Trump meeting. The press is somewhat befuddled by conflicting statements from each party over what happened. We say there is no confusion at all. The Russians say Trump accepted Putin's denial of hacking the US election and the two parties agreed to "move on." Everyone has noted that Secy of State Tillerson said not that Trump was concerned about the hacking, but rather that the US public was concerned about it. Oh, dear.
The acceptance of the Putin denial is implicit permission for Russia to persist in meddling in US elections in the future. Oh, yes, the US agreed not to meddle in Russian elections and to form a joint task force to fight cyber-crime, implying Trump wants to give Russia whatever we've done so far. Bottom line, the consensus of opinion is that Putin won. Trump is now Putin's poodle, much as Tony Blair was once called Bush's poodle. That this is occurring in the formerly rabidly anti-commie Republican part is astonishing. And yet the Plubs in Congress are going along with it.
If we believe the US intelligence community that they do, indeed, have proof it was Russia and Russia alone doing the hacking, it's a big fat question why Trump does not accept it. One answer is Trump refusing to give anyone else any credit for his electoral win. Putin is thought to be exploiting Trump's childish vanity. Dissident Kasparov said on TV that Putin wanted Trump to win and helped him to win because he judges Trump a childish fool he can manipulate.
Trump seems not to care that Putin lied to his face. Since Trump probably lied to Putin, too, Trump probably thinks they are square. Instead of the one thing we wanted, we got some cockamamie ceasefire deal in Syria, which should have been last on the list of priorities. Sorry, Syria, but N. Korea is, at the moment, more dangerous. Now we need to watch for whether Trump tries to roll back sanctions against Russia, including the seized properties.
What was the one thing we wanted? The equivalent of Reagan's "Mr. Gorbychev, tear down this wall." But maybe Putin didn't win, after all. Trump may not have come off as strong and promoting America First, but Trump lies and changes his stance all the time. The word is erratic. Putin may not have gotten what he thinks he got. And what does he want? For Russia to appear one of the top players on the global stage. Okay, Trump gave him that, even though Russia is half the size of California, $1.2 trillion vs. $2.5 trillion. California would be the 6th largest nation if it were a country. Russia has vast natural resources, but hardly any industrial base and a corrupt, dysfunctional financial system. Quick, name a Russian invention that has caught fire globally.
But beyond being able to strut upon the global stage, Putin wants the US and West to end sanctions, to accept that he can keep Crimea, and he would also like the US to stop the trend toward oil selfsufficiency, including the ability to export to Europe, so far Russia's captive.
The irony is that if Khruschev was right and Russia "buries" the US, where will Russia get things like i -phones and movies when we're gone? Another irony is that if the US impeaches Trump or gets rid of him some other way, we will get Dimbulb Pence. This might be preferable to Putin. And Putin has a long game. Cozying up to Christian evangelicals is one of Russia's latest ploys. Nearly a majority now view Russia favorably. You have to ask yourself "why"?
Gold: We are puzzled that nuclear threats from a batshit-crazy Asian dictator, Putin playing Trump at G-20, and the Trump threat to world trade, plus the delay in getting the Trump Bump, are not driving gold higher. Much higher. But on Friday we had gold at $1221 and today, $1207.
On the daily chart, you can spy a head-and-shoulders pattern, or maybe a double top. Either way, it signals lower prices ahead. On the weekly chart here, the price has definitively dropped under the red 20- week (100-day) moving average. We can imagine a drop to red support at about $1168.01, or further to test the previous low at $1123.90 from 12/16/16.
An expected decline is nonsensical if we are looking at gold as the best proxy for rising global risk. It makes more sense if we consider that inflation is nowhere in sight, except in economists' models. And yet expectations of rising rates and contracting the Fed balance sheet in the US, and tapering in the eurozone, are raising real yields. In this context, since gold famously has no yield, a slipping price makes perfect sense. But just wait. Complacency is wrong. The probability of something Big and Bad, perhaps catastrophic, is not all that low. We are saving our pennies against the day we see one of those projected lows. Fear is almost always more powerful than hopeful expectations. What is a gold buyer giving up? Not even 1% in Europe and less than 3% in the US.
The current consensus about inflation is that it's not high and not rising. But that's not strictly true. You don't have to torture the data too much to see that inflation is off the lows and well over the Fed's 2% target during the first half. Trading economics forecasts 2% this year, rising to 2.5% by 2020. But wait a minute. Average hourly wages are rising at about 2.5% p.a. The inflation forecast therefore means zero real wage growth—in an environment of skilled labor shortages, not to mention demographic change. We may not get an oil price boost to inflation, but if Trump ever gets around to infrastructure, wages will rise by more. It's not only gold bugs that will start talking about actual inflation, just not today. Or tomorrow.
Trading Signals:
Stock Picks:
YY TRADING:
YY Inc. (YY): ABOVE $58.50, with a $64 first target, a $73 second target, and a $52.50 stop loss. Confirmation Volume Area= 1M, Risk Rating= 5, Industry= Internet Information Providers

YY TRADING TIP: Watch this choppy formation as it sets up for another stage higher, while the market finishes mixed. When reviewing new trading ideas for purchase, consider buying in pieces by following strength (DCA UP). NOTE: the use of the "Confirmation Day" concept drastically reduces trade risk.
YY Inc. (YY) rose $1.15, to $57.98 on good volume today! YY operates a live streaming platform in the People's Republic of China. YY engages users to interact in live online group activities through voice, text, and video, as well as to create and organize groups of various sizes to discover and participate in a range of online activities, including music shows, online games, dating shows, live game broadcasting, and e-learning. Its primary product is YY Client, which enables users to engage in live interactions online; and provides access to user-created online social activities groups. YY also offers Web-based YY that enables users to conduct real-time interactions and watch live streaming content on their Web browsers without any downloads or installations; and YY Live, a music and entertainment mobile application. In addition, YY operates Duowan.com, a game media Website that provides access to interactive resources for online games; and YY.com, Huya.com, and Zhiniu8.com to browse and watch various categories of live broadcasts and other contents on the YY platform, as well as 100.com which provides various online education contents. Further, YY is involved in online advertising and software development activities.
PAYPAL
This week, Trade Ideas technology is pointing towards "Big Cap" stocks that are looking to break out to all-time highs from tight congestion. PYPL is a stock with plenty of liquidity having a market cap of $64 billion. Stocks that consolidate sideways rather than pulling back are more likely to continue in the direction of the major trend.
The Trade of the Week in PYPL is conditional of a break above the recent high at 54.75. This could give PYPL momentum coming out of a sideways consolidation pattern to successfully take out the all-time high of 55.14. The suggested stop for this position will be 51.90. Any failure to take out the all-time highs will be treated seriously with a tight stop of only 5% risk here. The upside target will be 60.00 but in reality, there is no technical resistance at all-time highs for stocks lucky enough to be there. As always, use only the amount of shares that will equal your maximum dollar loss should PYPL trade down below 51.90.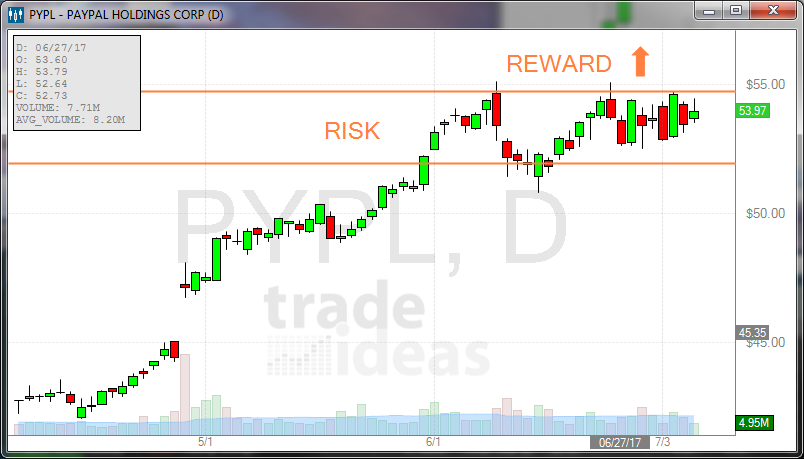 Footnote: This is a table showing the maximum profit for all past 2017 Trades of the Week. Timing the top is impossible but this table shows how much alpha was possible when considering the exit of these positions. The trades outlined in red eventually hit their suggested stop prices, so you can see the importance of timing and harvesting profits along the way when you can, especially those that move above 10%.
*Assumptions
Targets are not absolute. Targets involve timing. Profits can and should be harvested along the way.
Risk to Reward ratio ideal is 1:3
Trades of the week that do not reach entry prices are not considered live and are expired at the end of the current week. (ORCL and JNPR)
TOW Rules: 20% Rule. If a performance is up 10% and gives back 20%, take the 8 and run. (Profit Save, Trailing Stop).
Stocks that gap up over the entry price are considered up to the discretion of the buyer as to the entry price (WETF)
Our Credo: What's Good for YOU!..Good For Us and vice versa!... Disclaimers Investing is Inherently Risky There are risks inherent in all investments, which may make such investments unsuitable for certain persons. These include, for example, economic, political, currency exchange, rate fluctuations, and limited availability of information on international securities. You may lose all of your money trading and investing. Do NOT enter any trade without fully understanding the worst-case scenarios of that trade. And do NOT trade with money you cannot afford to lose. Past performance of an investment is not necessarily indicative of its future results. No assurance can be given that any implied recommendation will be profitable or will not be subject to losses. Hypothetical Results Are Reported Results and examples used in the Company's advertisements, books, videos, websites, and other media—including on the Site and the Network—are, in some cases, based on hypothetical (simulated) trades. Plainly speaking, these trades were not actually executed. Hypothetical performance results have certain limitations. Unlike an actual performance record, hypothetical results do not represent actual trading. Also, since the trades have not been executed, the hypothetical results may have under-or-over compensation for the impact, if any, of certain market factors, such as lack of liquidity. Hypothetical trading programs generally are also subject to the fact that they are designed with the benefit of hindsight. Hypothetical results also do not account for commissions or slippage. The Company's simulations assume purchase and sale prices believed to be attainable. Yet traders are going to be getting into trades at different times and using various exit approaches, which may result in different pricing and outcomes. You may or may not receive the best available price on the purchase or the sale of a position in actual trading. Information provided by the Company is not investment advice. The Company is not a registered investment adviser, stock broker, or brokerage. You agree that the Company does not represent, warrant, or take responsibility that any account will or is likely to achieve profit or losses similar to those shown. Examples published by the Company are selected for illustrative purposes only. They are not typical and do not represent the typical results of all stocks within the Company's software or its individual scans and searches. No independent party has audited any hypothetical performance contained at this Web site, nor has any independent party undertaken to confirm that they reflect the trading method under the assumptions or conditions specified.