For the second week in a row, My Affiliate In Trade Ideas technology is not seeing an edge for any specific long strategy. For those that monitored our A.I. "Holly" last week, you saw little to no action at all for most of the week. If the A.I. is not seeing an edge to go long, this is a "canary in the coal mine" moment for us to study. Recent daily charts of (SPY) and (QQQ) show possible distribution taking place. Distribution is the footprint of institutional selling with high volume over a few scattered long red -candle down days.
The Trade Plan of the Week is to buy ProShares UltraShort (QID) to establish a defensive short position should the market deteriorate further this week. The trade is considered live above

Friday's

high of 16.62. If you currently have some long positions open, you could consider this trade idea as a hedge for your personal portfolio.
The daily chart of QID looks much like many of the "Trend Change Lubricant" scans that have worked in the past. Only this time we are using an inverted ETF (with some leverage) to participate. The suggested target for this position is the gap fill at 18.95. The suggested stop will be 15.60. So we are risking roughly $1.00 to make $2.30. The entry trigger of 16.63 will be live and open for the entire week.
Footnote: This is a table showing the maximum profit for past 2017 Trades Plan of the Week. Timing the top is impossible but this table shows how much alpha was possible when considering your personal exit of these positions. The trades outlined in red eventually hit their suggested stop prices, so you can see the importance of timing and harvesting profits along the way when you can, especially those that move above 10%. We will update this table when needed to bring data more up to date.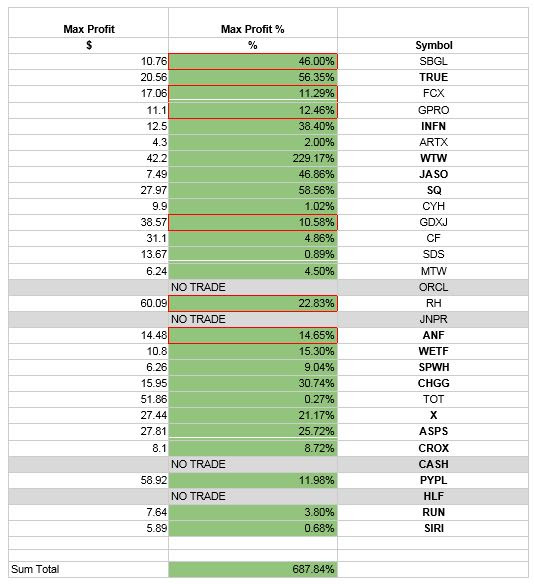 Targets are not absolute. Targets involve timing. Profits can and should be harvested along the way.
Risk to Reward ratio ideal is 1:3
Trades of the week that do not reach entry prices are not considered live and are expired at the end of the current week. (ORCL, HLF and JNPR)
TOW Rules: 20% Rule. If a performance is up 10% and gives back 20%, take the 8 and run. (Profit Save, Trailing Stop).
Stocks that gap up over the entry price are considered up to the discretion of the buyer as to the entry price (WETF)
Our Credo: What's Good for YOU!..Good For Us and vice versa!... Disclaimers Investing is Inherently Risky There are risks inherent in all investments, which may make such investments unsuitable for certain persons. These include, for example, economic, political, currency exchange, rate fluctuations, and limited availability of information on international securities. You may lose all of your money trading and investing. Do NOT enter any trade without fully understanding the worst-case scenarios of that trade. And do NOT trade with money you cannot afford to lose. Past performance of an investment is not necessarily indicative of its future results. No assurance can be given that any implied recommendation will be profitable or will not be subject to losses. Hypothetical Results Are Reported Results and examples used in the Company's advertisements, books, videos, websites, and other media—including on the Site and the Network—are, in some cases, based on hypothetical (simulated) trades. Plainly speaking, these trades were not actually executed. Hypothetical performance results have certain limitations. Unlike an actual performance record, hypothetical results do not represent actual trading. Also, since the trades have not been executed, the hypothetical results may have under-or-over compensation for the impact, if any, of certain market factors, such as lack of liquidity. Hypothetical trading programs generally are also subject to the fact that they are designed with the benefit of hindsight. Hypothetical results also do not account for commissions or slippage. The Company's simulations assume purchase and sale prices believed to be attainable. Yet traders are going to be getting into trades at different times and using various exit approaches, which may result in different pricing and outcomes. You may or may not receive the best available price on the purchase or the sale of a position in actual trading. Information provided by the Company is not investment advice. The Company is not a registered investment adviser, stock broker, or brokerage. You agree that the Company does not represent, warrant, or take responsibility that any account will or is likely to achieve profit or losses similar to those shown. Examples published by the Company are selected for illustrative purposes only. They are not typical and do not represent the typical results of all stocks within the Company's software or its individual scans and searches. No independent party has audited any hypothetical performance contained at this Web site, nor has any independent party undertaken to confirm that they reflect the trading method under the assumptions or conditions specified.